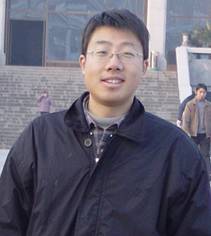 胡鹤
Doctor

He Hu

, Associate Professor
Database & Intelligent Information Retrieval Lab
Renmin University of China
Email:

hehu[at]ruc.edu.cn

Male, born in 1976.
Experience:
2009 - now : Associate Professor of Renmin University of China School of Information;
2004 - 2009: Lecturer, Renmin University of China School of Information;
1994 - 2004: Department of Computer Science, Jilin University (BA, MA, PhD).

---
Research Interests
My research interests are in the fields of Artificial Intelligence and Semantic Web, including Web Intelligence Engineering, Mining and Knowledge Discovery.
---
Publicatons
A Semantic Analysis of Chinese Radicals, International Journal of Business Intelligence and Data Mining (IJBIDM), Vol. 3, No.4, pp. 426 -436, 2008.
Ontology Hierarchies Matching by Lattices Alignment, the 6th International Semantic Web Conference (ISWC 07) Workshop on Ontology Matching, pp306-310, Busan, Korea, 11 November 2007.
Building Bilingual Ontology from WordNet and Chinese Classified Thesaurus, Proceedings of the Second International Conference on Knowledge Science, Engineering and Management (KSEM 07), pp649-654, Melbourne, Australia, 28-30 November 2007.
ConAnnotator: Ontology-aided Collaborative Annotation System, Proc. Of the 10th International Conference on CSCW in Design (CSCWD 06), 850-855, IEEE Press, Nanjing, China, 2006.
......
DBLP author page
---
Courses
Artificial Intelligence
Natural Language Processing
---
Contact Information
Office Tel: (+8610) 62,514,014
E-mail: hehu@ruc.edu.cn

---
Copyright © 2010, Ruc, IIR Lab, All rights Reserved.